NOTE THAT THIS IS INCOMPLETE.
Introduction
So you have signed up for being one of the few military police officers that have been tasked with protecting all personnel.
Your sole task should be to keep the peace between marines,command staff and non-combat staff.
Here are the laws from the wiki you have to follow which can also be found in the marine law book.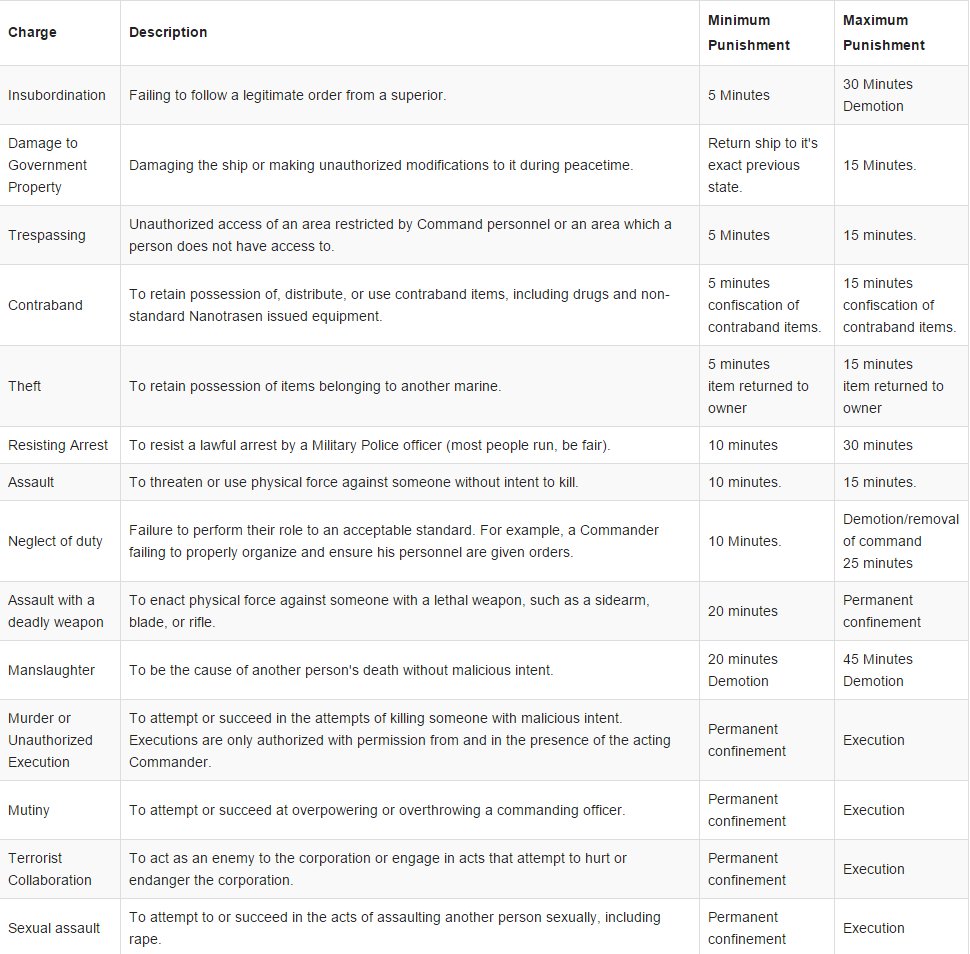 If the marine or anyone who disobeys these orders are to be arrested and sent to brig.
All times are located in the marine laws.
Waking up you find yourself here.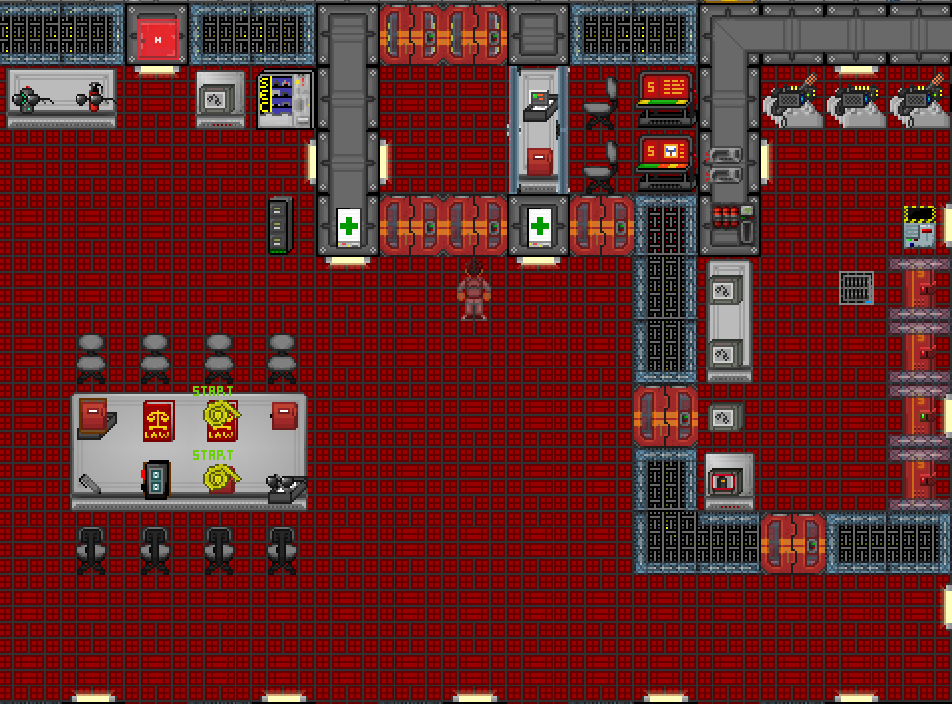 This is usually where all pre-set MPs have spawned with equipment ready and checked for basic crowd control.
All areas will be explained here.
The MP armory.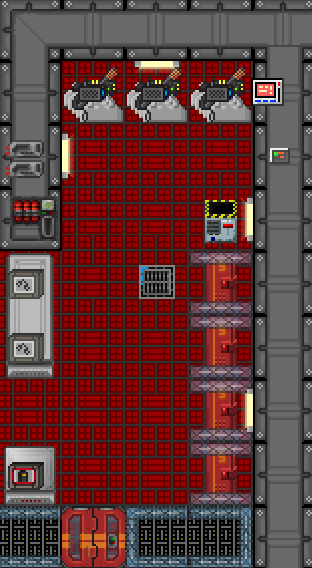 At the MP armory you will find a wide array of non-lethal weapons as well as extra hand-cuffs, hailers and spare equipment for any re-assigned MPs,
with wall mounted recharing stations for your batons and tasers.
The emergency weapons rack.
This place is solely for emergencies where you can arm up for CERTAIN reasons such as xeno-life forms boarding.
As an MP you are unauthorized by law to have a lethal weapon unless command allows it.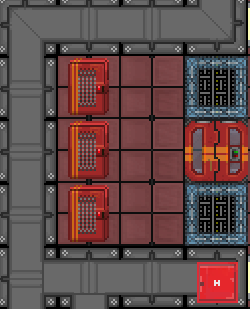 Prisoner cells
The birg contains five regular cells where you place individual prisoners inside.
You can only put them in brig for a certain duration of time and all laws broken can stack.

Permanent confindment
This is ONLY if they have received a certain amount of punishments or if they broke a certain law you are able to perma brig them.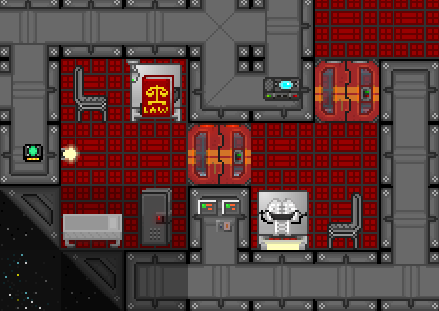 Loadout
As an MP I arm myself with a belt full of cuffs,a flash inside and a stun baton on in my backpack with a hailer and flashbang in my pockets and armor.
Possibly with two tazers, with one holstered and the other in my backpack.
Have a riot helmet in your pack just in case (I rarely have them on) it goes into a fire fight.
(Need to add pictures)
Arresting someone
To arrest a suspect you must first need to grab a hold of them with the grab intent,

But make sure they are stunned or rendered ineffective to fight back or run away,
Once done upgrade it to an aggressive grab,

And afterwards get your cuffs into your free/active hand to arrest them by just clicking on their sprite.

Done,you have arrested the suspect.
(Sorry Gary.)
Orders
Follow the chain of command and follow orders.
No one is above marine law and all MPs are to enforce it.
If someone gives you an order to go kill someone, DON'T since it is not an order you should take without PROPER reason.
If some commanding officer was to order you to arrest or to kill some, you must ask WHY you need this person killed/arrested and if they say "treason" or something stupid like that then you must consistantly ask what they did wrong and compare it to the marine law. (Surivors are an exception to arrest but not to kill).
Starting off
As the military police you must identify key locations of marine disruption and be there to keep the peace.
There are two main locations:
Requisitions office: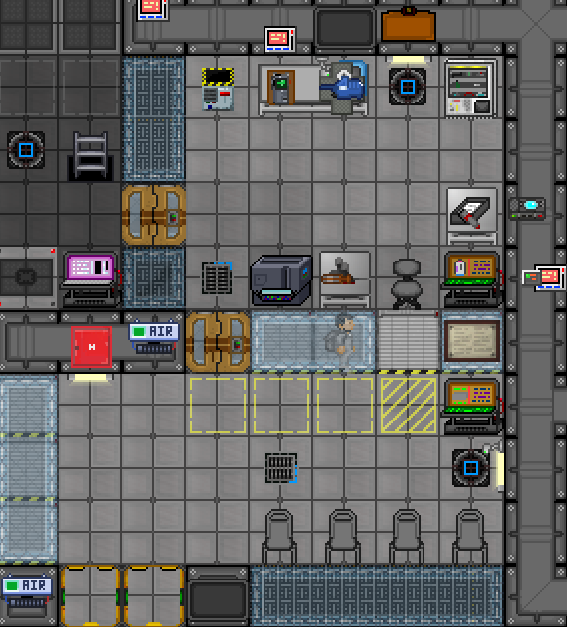 This is usually the first area where most of the distruption occurs and it is your job to keep the mairnes at bay whether to have everyone who is causing a commotion stunned and kicked out of line or by settling whatever argument caused it in the first place.
Usually it's all about marines fighting over attachments, where the simplest thing is to stun the theft and give the attachment back to the victim.
Other times it maybe about the requisistions officer being incompetent and refusing to hand out certain items to people. This is where you
kindly
ask him/her to hand out the attachments or tell them that they will be demoted for negelcting duty
Also for recruits sake tactical lights are freebies and are to be distributed on demand,
The offical rules are guidelines that you should follow and alter if needed.
The Briefing room:
The area most responsible in trying to get stuff done that will go down hill.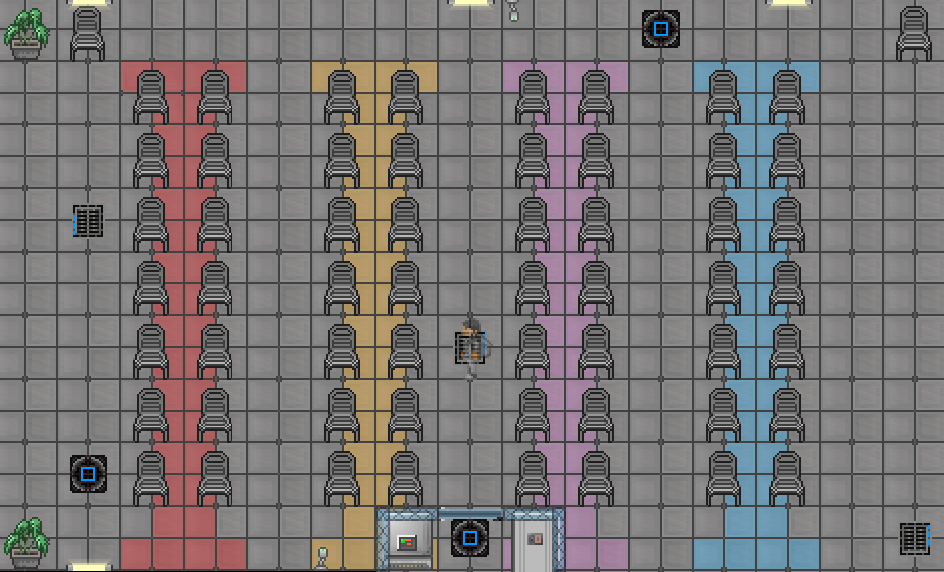 Once
most
of the marines have started to show up to briefing and command takes forever to make the briefing, marines will tend to be a bit rouddy and this is where you come in.
If a marine is shouting stupid things that are either offensive, just warn them and if it rises to violence then stun all assaulters and either cuff them to brig or buckle them back to their designated seats.